Revival of cinema is a buzz word we hear too often in the press and media but on ground the situation is not the same. In past 2-4 years many projects were announced by various media houses, very few of which have been actualized so far.
The situation has not been much different in 2015. Nearly half year passed and only two major Urdu films have been released so far. Good Morning Karachi (released on 1st January 2015) proved dead flop while the second one Jalaibee (released on 11th March 2015) performed average at the box office.
However this summer many film projects announced in past years are finally seeing the light of the day and situation looks quite promising. Many production houses have announced and confirmed the release dates of their film projects. This article is a compilation of such films releasing till Eidul Azha or in our summer season
During this season films of different genre will be screened catering to different tastes and audiences. Majority of the films are produced in Karachi (Karawood), whereas few are from Lahore (aka Lollywood) the traditional film centre of our country. Interestingly few films are also produced in Islamabad and Quetta.
Teen Bahadur (تین بہادر)
Teen Bahadur (تین بہادر) is the first commercially released animated film in Pakistan produced and directed by Oscar winner Sharmeen Obaid Chinoy.It is already released on 22nd May 2015. As per distributor the film has so far earned 5 crore making it a successful experiment. Teen Bahadur (تین بہادر) is produced in Karachi
Film: Teen Bahadur (تین بہادر)
Director: Sharmeen Obaid Chinoy
Music: Sheraz Uppal
Produced by: Waadi Animations
Distributor: ARY Films
Maya (مایا)
Maya (مایا) is a horror film directed by Jawwad Bashir. Jawwad is famous name for sitcoms and music (Dr. Aur Billa fame). In recent times he was part of the Ufone commercials team. Maya (مایا) is his first film produced by his wife Hinna Jawwad. Maya is produced and filmed in Lahore.
Starring: Ahmed Abdul Rehman , Hina Jawad , Zain Afzal , Sheikh Mohammad Ahmed , Anam Malik , & Rasheed Ali Guest Appearance Jawad Bashir & Ali Aftab
Written By : Hinna Jawwad
Directed By: Jawwad Bashir
Produced By: Hinna Jawwad, Sana Sulman, Zara Hamid
Badal (بدّل) – Revenge of the Worthless
Badal (بدّل) – Revenge of the Worthless is an action and war based film based on real life events of Swaat operation sirate mustaqeem in 2009. It was due to release on 22nd May 2015, but now it will be released between Eidul Fitar and Eidul Azhaa. This film is produced in Islamabad and filmed in Islamabad and Swaat.
It is directed by Jamal Shah and produced by his wife Amna Shah
Starring : Jamal Shah, Ayub Khoso, Firdaus Jamal, Shamyl Khan, Maira Khan and Emel Karakose ,Asif Shah, Asaldin Khan, Imran Tareen, Iram, Shehrbano, Abdur Raheem, Najeebullah Anjum,Tariq Jamal Arshad, Sultan, Kaleemullah, Qazi Zubair,Wafa Khan, Rafique and Marjan
Directed By: Jamal Shah
Cinematographer : Aamir Tehseen Rao
Written By: Jamal Shah
Screenplay By: Jamal Shah
Produced By: Amna Shah for Hunerkada Films
Abdullah (عبدالّلہ) – The final Witness
Abdullah (عبدالّلہ) – The final Witness is directed, written and produced by Hashim Nadeem. The film is based on the Kharrotabad incident of 17 May 2011. Hameed Sheikh is playing the lead role, whereas Imran Abbas playing a minor role. It is filmed and produced in Quetta. The film carries the distinction of screening at Cannes Film Festival 2015. It was due to release on 5th June 2015, however now it will be released after Eidul Fitar.
Starring : Hameed Sheikh, Sajid Hassan, Imran Abbas, Saadia Khan and others
Directed, Written, Produced By: Hashim Nadeem
Wrong Number (رانگ نمبر)
Wrong Number is the first film directed by Yasir Nawaz and is scheduled to release on Eidul Fitar. It is a romantic comedy film. Danish Taimoor is playing double role in this film. It is produced and shot in Karachi.
YNH Films & ARY Films Present
Wrong Number
Cast: Javed Sheikh, Danish Taimoor, Sohai Ali Abro, Janita Asma . Danish Nawaz, Shafqat Cheema & Nadeem Jafri
Directed By: Yasir Nawaz
Produced by: YNH FILMS (Yasir Nawaz, Nida Yasir, Hassan Zia)
Distributed by: ARY FILMS
Bin Roye (بن روۓ)
Bin Roye (بن روۓ) is the first film produced by Hum Tv and Momina Duraid productions. Produced in Karachi it is filmed in Las Angeles, USA. It is a social, romantic, drama film.
Starring: Humayun Saeed , Mahira Khan , Armeena Rana Khan ,Javed Sheikh,Zeba Bakhtiyar, Azra Mansoor, Junaid Khan
Directed By: Shahzad Kashmiri & Momina Duraid,
Writer : Farhat Ishtiaq
Hum films and MD Productions
Fiker Not (قکر ناٹ)
Fiker Not (قکر ناٹ) is a low budget film produced in Islamabad, directed by debutant Aasima Butt. The film consists of new faces and is a commercial formula film like a typical low budget Punjabi film. It will be released after Eidul Fitar.
Cast: shehla, rubab, sadaf, kanwal, hammad, sheraz, mudassir, suleman sunny, durdana rehman, mubashir, iffat choudhry,ahsan qureshi, babar abbas,ayza mehar
Writer: ali raza khalid
Director: Aasima Butt
Producer: Ammad Butt
Distributor: DOLPHINS COMMUNICATIONS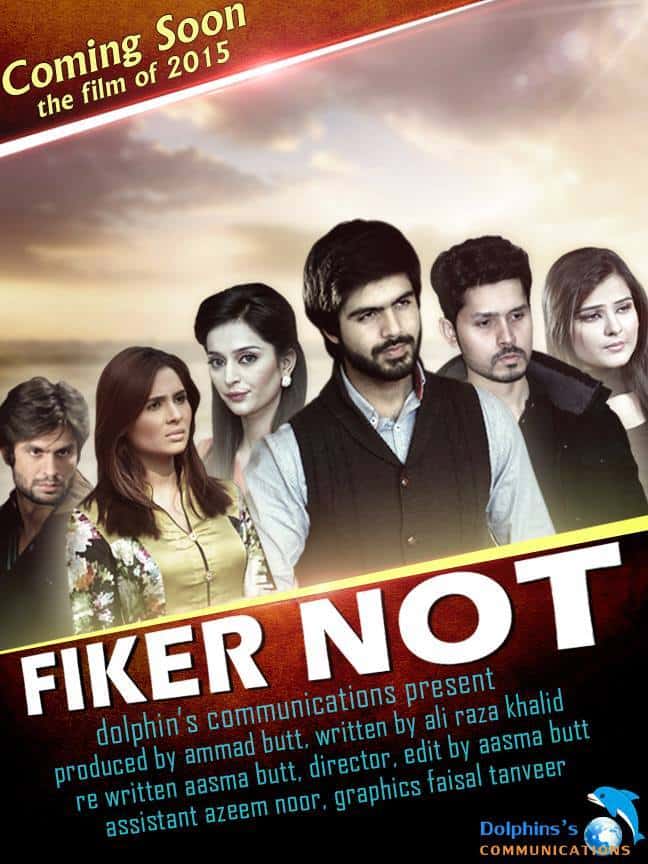 Karachi Se Lahore (کراچی سے لاہور)
Karachi Se Lahore (کراچی سے لاہور) is an upcoming film to be released on 31st July 2015. It is the story of four friends (Ayesha Omar, Shahzad Sheikh, Ahmed Ali, Yasir Hussain) who travel by road to Lahore from Karachi to stop the marriage of one of their friend (Eshita Syed). On the way they face various challenges and became part of some interesting experiences. Produced in Karachi, it is shot in various cities of Sindh and Punjab. It is scheduled to release on 31st July 2015
Starring: Javed Sheikh, Shehzad sheikh, Aysha Omer, Yasir Hussain, Aashir Wajahat, Eshita Syed, Ahmed Ali, Rashid Naz, Mantaha
Directed Produced and Story by: Wajahat Rauf
Wirtten by : Yasir Hussain
Music by : Sur Darwaish
Maalik (مالک)
Maalik (مالک) is the first film by Ashir Azeem (Dhuwaan fame). It is produced and shot in Karachi. Maalik is based on the story of a government officer fighting corruption. It is scheduled to release on 14th August.
Starring: Ashir Azeem,Farhan Ali Agha,Sajid Hassan,Hassan Niazi,Sabreen Baloch,Rashid Farooqi,Marriam Ansari,Adnan Shah,Tatmain ul Qalb,
Directed By:Ashir Azeem
Written By:Ashir Azeem
Screenplay By:Ashir Azeem
Produced By:Media Hub
Salute (سیلوٹ)
Salute (سیلوٹ) is directed by Shahzad Rafique and is based on the real life event of Aitzaz Ahsan of Hangu, KPK. Aitzaz Ahsan a teenager sacrificed his life to save fellow students from a suicide bomber. Produced in Lahore it is shot in KPK. It is scheduled to release on 14th August. Its trailer and other details are not made public yet.
Shahzad Rafique has directed many Urdu and Punjabi films like Rukhsati, Salakhain and Ishq Khuda. As a producer Shahzad produced super hits like Nikkah and Ghunghat in 1990's.
Starring: Saima Noor and others
Directed and Produced By:Shahzad Rafique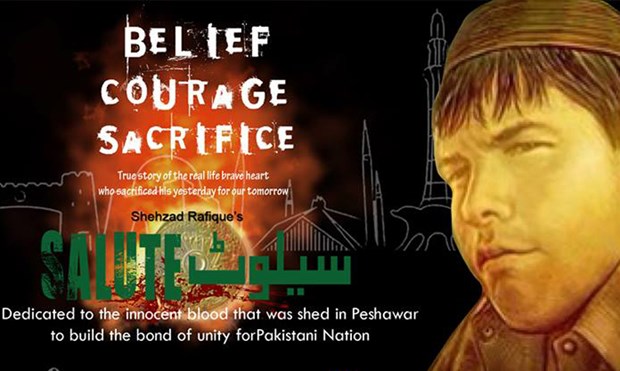 Moor (مور)
Moor (مور) is scheduled to release on 14th August. Produced in Karachi, it is shot in Balochistan.
Genre: Family/Drama
Starring: Hameed Sheikh, Samiya Mumtaz, Shaz Khan, Abdul Qadir, Sonya Hussyn, Ayaz Samoo, Ali Sheikh, Shabbir Rana, Habib Panazayi, Azlan Shah
Directed By: Jami
Written By: Jami & Nazira Ali
Screenplay By: Jami
Produced By: Jami , Nadeem H. Mandviwalla
https://vimeo.com/71622464
Dekh Maggar Pyaar Se(دیکھ مگر پیار سے)
Dekh Maggar Pyaar Se(دیکھ مگر پیار سے) is directorial debut of Asad ul Haq. It is scheduled to release on 14th August, where no trailer is released yet. It is the second film of Humaima Malik after Bol in 2011. Sikandar Rizvi the grandson of Madam Noor Jehan is making his debut from DMPS. It is shot and produced in Karachi
Starring: Humaima Malick & introducing Sikander Rizvi
Directed By: Asad ul Haq
Written By:Saba Imtiaz
Produced By:Ali Murtaza and Asad ul Haq

Sawarangi (سوارنگی)
Sawarangi (سوارنگی) is based on drugs and its impacts on society. It is shot in Mianwali and produced in Lahore. It is scheduled to release on 29th August. Resham will be seen in a film after a gap of eight years.
https://vimeo.com/72141457

Halla Gulla (ہلا گلا)
Halla Gulla (ہلا گلا) is a romantic comedy film produced in Karachi and filmed in Karachi and Bangkok. It is expected to be released after Eidul Fitar. Its trailer is yet to be released, only a small teaser is released so far.
Starring: Javed Sheikh,Ismail Tara,Ghazala Javed,Asim Mehmood,Muneeb.Sidra Batool,Ashraf Khan,Zara Gul,Jasmeen,Adil Wadia,Maryam Ansari,Hina Rizvi,Hunain Maniar,Bilal Yousufzai
Directed by: Kamran Akbar Khan
Written By:Raheela Mushtaq Shah
Screenplay By:Kamran Akbar Khan
Produced By:Hamid Mohammad

Jawaani Phirr Nahin Aani (جوانی پھر نہیں آنی)
Jawaani Phirr Nahin Aani (جوانی پھر نہیں آنی) is produced and filmed in Karachi as well as Bangkok. It will release on Eidul Azha
Cast: Humayun Saeed, Hamza Ali Abbasi, Ahmed Ali Butt, Vasay Ch, Aisha Khan, Sarwat Gillani, Mehwish Hayat,Sohai Ali Abro, Javed Sheikh, Bushra Ansari, Saba Hameed,ZQ, Ismail Tara
Writer: Vasay Chaudhary
Directed by: Nadeem Baig
Music: Shani Arshad, Sahir Ali Bagga, Shuja Haider
Producers:Salman Iqbal, Humayun Saeed, Mohammad Jerjees Seja & Shahzad Nasib
ARY Films and Six Sigma Plus
Ho Mann Jahan (ہو من جہاں)
Ho Mann Jahan (ہو من جہاں) is produced and filmed in Karachi and scheduled to release on Eidul Azha.
Directed by: Asim Raza
Story by: Asim Raza
Screenplay by: Rashna Abidi, Imtisal Abbasi & Asim Raza
Dialogues by: Yasir Hussain & Asim Raza
Starring: Mahirah Hafeez Khan, Sonya Jehan, Sheheryar Munawar, Adeel Hussain, Bushra Ansari, Nimra Bucha, Arshad Mehmood and Munawar Siddiqui
So it sums up the movies lined up for the summer. It will be interesting to see how cine goers respond to these films. Success/failure of these films will determine the future course of our infant film industry. Like if Bin Roye proves successful, it will pave the way for more social/drama films. Success of Wrong No, Halla Gulla type films will definitely result in increase in comedy masaala films.
All in all it is encouraging to see so many film makers have taken a risk by investing in local film industry. Now its up to audience and cine goers to play their part to also support the local cinema in a same manner many among us show solidarity with Bollywood.
Rashid Nazir Ali