What a heart wrenching episode! Sanam Jung stole the show with her superb acting and she was without any doubt the ultimate star of this episode. It was the best performance given by her in all the episodes that have gone on air so far. Silah is finally taking a stand for herself after continuously being humiliated and degraded by Adeel who left no chance to vent his frustration on her. She was upset with him at first because of his stubbornness on not letting her work and to help them come out of their financial crises which is getting worse by the day.
"Main To Apke Liyeah Zid Aur Ana Ka Masla Ban Gaee Hun, Apki Nazar Mein Mere Koi Mayene Hee Nahi"
Silah was patient throughout all their problems but she lost her cool when Affan got sick and they had no money to take him to the hospital. The scene where she leaves her home all tensed and worried, roaming the streets with a sick Affan in her hand was just heart breaking to watch. The scene where she fell on the road and Aijaz Aslam made his entry was brilliantly directed and executed. He turned out to be the savior of the day and quickly took Affan and Silah to the hospital when Silah requested him to help her.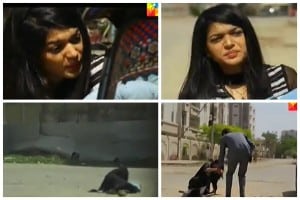 Aijaz Aslam plays the role of Ahmer, a rich man with a big heart. He stayed with Silah at the hospital till Affan got better, paid all the bills and even dropped her safely at home. Silah could not stop thanking him again and again for his help as she was now in his debt for a lifetime. Ahmer seems like an extremely down to earth person as he clearly refused to take the money which Silah returned for the hospital bills.
Adeel was left helpless when Affan got sick as he had no money to take him to the hospital. I felt sympathy for him when he said these dialogues:
"Kitna Badnaseeb Shaks Hun, Apne Bache Ki Jaiz Zaruriat Bhi Poori Nahi Kerparaha. Mein Is Masoom Ke Liyeah Islyeah Kuch Nahi Kerparaha Kiunke Mere Paas Paise Nahi Hai"
It was the first time I realized what he must be going through and why he feels so frustrated. The feeling of not being able to support his family is killing him inside and that is the reason why he is irritated and angry all the time. One thing which I do not understand is why does he have such a big ego? He makes such a big issue out of petty things because he feels his self respect is hurt. He does not want Silah to get a job because his ego and self respect would get hurt. He was angry when Silah took Affan to the doctor alone and did not wait for him to come back; he even had an issue with a stranger helping them and Silah coming in his car in the night! Well Adeel, if she would have waited for you then Affan's condition would have gotten worse! He also overreacted when Silah told him that she can request Ahmer for his job as his ego again came in between. Adeel has become completely blinded by his ego and his stubbornness to not take anyone's help, especially Silahs'. But after witnessing what Affan went through, he kept his ego aside for a while and went so far as to beg for a job from his temporary employer.
Silah finally gave up on him and went and asked Ahmer for a job for herself and Ahmer being a kind hearted and helpful person, gave her a job immediately. Then came the biggest task for Silah to accomplish that is to inform Adeel. She stood firm and did not waver from her decision to work and support the family. As expected, Adeel got furious and upset at Silah and told her that she can do what she wants to and they had their first serious fight.
I had been hoping Zoya would not turn negative but it seems like she would be the reason for all the misunderstanding created between Silah and Adeel. On one hand, she is instigating Silah against Adeel and on the other hand she would be filing Adeel's ears against Silah.
Next week's episode will be full of misunderstandings as Silah and Adeel's relationship would get affected by all the recent happenings. Let's hope their relation would be strong enough to face the storm that is moving towards them!
Keep Watching and do share your views about the episode!
 Mariam Shafiq